Latest Digital Model by SHARPERTEKŪ

Set Your Cleaning Time by Pressing on "SET" and Click "ON"
Features:
Best Deal! Great Value for the Price and Quality!

High Power Transducer for Superior Cleaning Results
Large Tank Capacity for Professional Cleaning
Isolated-Circuit Design, Keep Water Away for Enhanced Safety
First Ultrasonic Cleaner to Introduce Cooling Fan for Prolonged Operation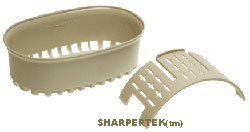 Applications:
Professional Cleaning: Great Cleaning Device for Scientific Labs, Medical and Dental Clinics, Electronics Workshops
Hobbyists: Electronics Components, Mechanical Parts, Firearms, Golf Clubs
Personal Care: Jewelry, Watches Straps and Bands, Glasses, Dentures, Toothbrushes, Table-ware
Specifications:
Ultrasonic Frequency

42,000 Hz

Tank Material

Stainless Steel

Tank Capacity

1,375 ml ( 2.4 pint )

Quiet, Solid States Circuitry

Timer

Digital; 1.5-Min, 3-Min, 4.6-Min, 6.3-Min, and 8-Min Options

Power Supply

AC 100 ~ 120V

Power

60 W

Unit Size

230 x 180 x 160 mm ( L x W x H )

N.W.

1.75 kg

Tank Dimensions

6.75" X 5.38" X 2.75"
Returns: 30 Day money back guarantee.
Warranty: 1 year
Jewelry Cleaning Solution and Silver Cleaning Plate: Order the ultrasonic machine TODAY with the SHARPERTEKŪ cleaning SOLUTION and Silver Cleaning Plate, and save on shipping fees! Use the Silver Cleaning Plate with the SHARPERTEKŪ cleaning solution to clean tarnished silver jewelry. This plate is a must if you own any silver jewelry. Once you click on the "Secure Order" button, you will have the option to order the cleaning solution and the optional plate.

Do you need a SharpertekŪ Ultrasonic Cleaning Solution? If yes then please click on POP UP ULTRASONIC SOLUTION PAGE

Customer Comments:
Body: I purchased an ultrasonic jewelry and misc cleaner. The price was reasonable and the quality of the product was excellent. They informed me by E-mail exactly what the delivery schedule would be on the same day that I ordered the product. Their advertising stated same day shipping. I did not take this seriously but I received the shipment 2 days after I ordered it even though I only ordered regular shipment by mail. This has been a very nice on-line shopping experience.
Technical Questions: Call SharpertekŪ engineering: (248)-930-9653
Customer Service and Sales: (877)-234-6900 or (248)-340-0342
Suggested Retail Price: $199.95